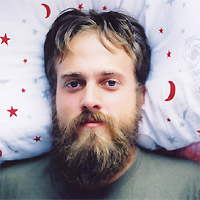 Though he may look like an enormous bearded infant, Sam Beam is one of the most compelling artists to emerge from the contemporary folk scene in the last few years. Hailing from Florida, Beam has quietly been releasing literate, gentle and extremely lovely music under the guise of Iron & Wine since his emergence in 2002.
After catching the attention of Sub Pop honcho Jonathon Poneman with a series of home recorded lo-fi tapes Beam released his debut album,
The Creek Drank The Cradle
, to widespread critical acclaim. Iron & Wine's second album, 2004's
Our Endless Numbered Days
, was a studio based affair recorded with a full band. While the increased production values gave rise to a cleaner more polished sound the songs themselves were as intricate and emotional as ever. 2005 saw the release of
In The Reins
, a collaboration with Arizona based band Calexico. Blending Iron & Wine's graceful melodicism with Calexico's widescreen orchestral grandeur the record garnered many positive reviews and easily stands up beside any of Beam's solo Iron & Wine works.
The band will play Temple Bar Music Centre on Saturday, October 27th as part of their European tour. Expect lots of hugging, weeping and nostalgic reminiscing of lost loves. Not content with being an acomplished musician and gifted songwriter Beam also directs many of the band's own videos. Talented bloody bastard! The one I've posted is for the single
Naked As We Came
taken from
Our Endless Numbered Days
. Awww! Doesn't it just make you feel all warm and gooey inside? No? Heartless pricks!
Sub Pop have confirmed the release date of Iron & Wine's third full length album,
The Shepard's Dog
, as 25th September 2007.
S.B.